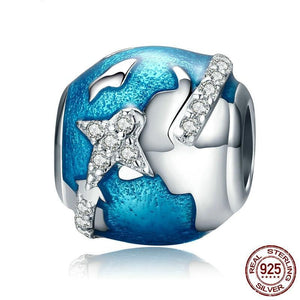 Sterling Silver and Enamel World Traveler Bead easily slides on your bracelet. Blue enamel and Cubic Zirconia crystals add color and sparkle. Wear it alone or combine with other travel beads to create a personal story full of memories.
- Genuine 925 Sterling Silver
- Hole size: 0.18 inches (4.5mm)
- Fits Pandora and other compatible bracelets. Check out our bracelet styles!
- Add a single bead, several of the same bead, or a mix of beads to create a one-of-a-kind designer sterling silver bracelet. 
Please allow 2 to 3 weeks for delivery from our European warehouse.